Beth M. – Registered Nurse
NAH Hero of the Year Finalist
Voting for Beth M. is easy!
Simply share this page on social media to make your vote count. Below, you'll see Facebook, Linkedin, Twitter, Tumblr and Google+ icons. You can share once on each of these platforms, and each vote counts! If you are unable to share on social media, you can submit your vote on our blog's contact page. Voting closes on 12/30! Votes made after the deadline will not be counted.
Be sure to read all our heroes' stories here.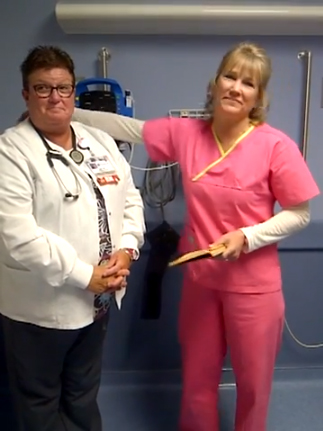 Beth is a Registered Nurse working in the ambulatory surgery unit of an Illinois hospital. Beth was nominated by friend and fellow nurse, Terri, for her exceptional patient care and overall admirable attitude. After Terri first nominated Beth, the letters began to flood in. When all was said and done, we received more than 14 individual letters about Beth- more than any other Nominate a Hero candidate thus far-from patients, coworkers (Nurses and Doctors), and even the Mayor.
To highlight Beth and show you some of the reasons our audiences voted her our July Nominate a Hero winner, we have included some excerpts from her nomination letters here:
I have experienced firsthand… that she is an extremely caring and dedicated nurse always going above and beyond the call of duty in all aspects of her professions. Beth contributes significantly her knowledge and experience to nursing colleagues and other care givers and is well-respected by all members of the healthcare team. She is a great people person and shares laughter throughout the working day, all while maintaining a professional atmosphere and putting the patient first.
– Mayor Ezard, City of Jacksonville
Beth's official title is "Registered Nurse" but to those who know her she is much more than that. She is a friend, a confidante, a staunch supporter of patient safety and an unyielding opponent of poor or apathetic care.
– Peter R., M.D.
Beth is a constant example of the positive attitude and upbeat personality we all aspire to display.
– S. Ford, R.N.
I am the nurse I am today because of her mentoring and role modeling… Beth's ability to relate and communicate with patients and families had the biggest impact on me.
– Leanne W., Clinical Director and Manager
Rarely have I met someone of Beth's caliber… Our deaf patients adore her because she interacts with them directly and treats them with respect… Beth's sense of humor and experience put the patient at ease. Each patient feels like they are getting undivided attention. She is successful at all of her endeavors and a leader among her colleagues.
– Joan O., Colleague
Here is why her coworker, Terri, chose to nominate Beth in the first place: