Our site is optimized for browser versions IE7 and higher. We suggest upgrading to the latest version.
For Immediate Release
Mark Goldberg, 719.532.8436
mgoldberg@calcas.com
California Casualty is Presenting Sponsor of California Program Honoring Educators That Make a Difference
San Mateo, CA, March 2, 2015 …Educators and dignitaries gathered February 16 to honor five 2015 California Teachers of the Year. The gala recognized the dedicated, exceptional teachers for their passion in helping all their students achieve both in and outside of the classroom. One, Maggie Mabery, seventh and eighth grade science instructor at Manhattan Beach Middle School, was nominated as California's National Teacher of the Year candidate.
As the Presenting Sponsor of the California Department of Education's School Recognition Program, California Casualty was proud to take part in the event. California Casualty Assistant Vice President Lisa Almeida was privileged to introduce State Superintendent of Public Instruction Tom Torlakson. The gala was so moving that a California Casualty Field Manager who attended was inspired to contact all the special teachers that had made an impact in her life to say thank you.
California Casualty's sponsorship also makes possible these other California School Recognition Programs:
California Gold Ribbon Schools – honoring exemplary public schools which demonstrate significant gains in narrowing the achievement gap
Classified School Employee of the Year – highlighting those who symbolize the profession's commitment to education
California Green Ribbon School Awards – recognizing schools that accomplish great things in the areas of sustainability and health
California Blue Ribbon Schools – celebrating schools that promote and support the improvement of education
The partnership with the California Department of Education is a testament to how schools, businesses and communities can come together to promote the remarkable successes of schools and educators across the Golden State. California Casualty Field representatives will help present the awards and attend the special recognition ceremonies, enhancing the company's commitment to California educators.
"Since we partnered with the CTA in 1951, California Casualty has been vested in helping California educators in their passion of making a difference for their students," said California Casualty Vice President Mike McCormick. "It's an honor to help recognize the everyday heroes who educate our children and make our communities better."
Headquartered in San Mateo, CA, with Service Centers in Arizona, Colorado and Kansas, California Casualty provides auto and home insurance to educators, firefighters, law enforcement and nurses across the country. Celebrating 100 years of service, California Casualty has been led by four generations of the Brown family. To learn more about California Casualty, or to request an auto insurance quote, please visit www.calcas.com or call 1.800.800.9410.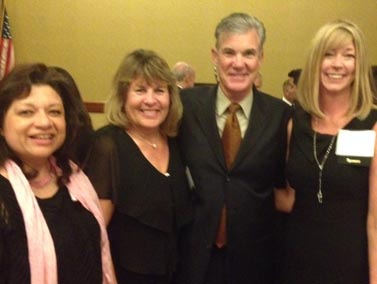 California Casualty Field Marketing Managers Norma Alfaro and Susan Frantz, State Superintendent of Public Instruction Tom Torlakson, and California Casualty AVP Lisa Almeida