For Immediate Release
Mark Goldberg
719.532.8436
mgoldberg@calcas.com
California Casualty Announces 2019 Music and Arts Grant Recipients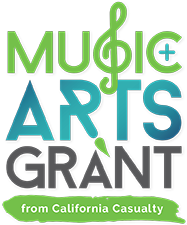 San Mateo, CA, September 16, 2019 – One hundred and thirty nine public schools in 31 states will be receiving a $250 Music and Arts Grant from California Casualty. A total of $34,750 will provide materials, supplies, and instruments for art, music, and performance programs at the schools.
The grant is designed to foster creativity in schools, such as choir, band, dance, film, theater, computer arts and graphics, or any K-12 curriculum that employs art for learning.
Examples of how the $250 grants for 2019 will be used include:
Purchasing special adaptive instruments for the Special Education Center at Mark Twain School in Garden Grove, CA, that serves special needs and medically fragile students
Supplying watercolor sets for third grade students at Homer Davis Elementary School in Tucson, AZ
Providing recorders for each music class student at Marie Roberts-Caney Elementary School in Lost Creek, KY
Acquiring Diary of a Whimpy Kid books to foster the reading program at Garfield Elementary School in Yakama, WA
Supplementing various art supplies (that the instructor often purchases with her own funds) at the Classical Studies Magnet Academy in Bridgeport, CT
Buying an additional camera to allow more students to participate in the photography program at Filer High School in Filer, ID
The entire list of Music and Arts grantees is included below.
California Casualty has partnered with education associations since 1951 and understands the importance of music and arts education for children. Numerous studies have concluded that sharing a love of the arts enhances students':
Brain development
Creativity
Classroom involvement
Music and art curriculum has also been shown to reduce disciplinary issues and dropout rates.
Unfortunately, many schools have reduced or eliminated music and arts education because of budget cuts. California Casualty hopes to fill the need with the Music and Arts Grant.
"Students love to showcase their creativity, and helping educators keep music and arts in the forefront of every-day learning is absolutely the right thing for us to do," said California Casualty AVP Brian Goodman.
Public K-12 schools needing funding for an arts or performance program can apply for the 2020 Music and Arts Grant from California Casualty at www.calcasmusicartsgrant.com.
Founded in 1914, California Casualty provides the NEA Auto and Home Insurance Program. Headquartered in San Mateo, California, with Service Centers in Arizona, Colorado and Kansas, California Casualty has been led by four generations of the Brown family. To learn more about California Casualty, or to request an auto insurance quote, please visit www.calcas.com/NEA or call 1.800.800.9410.
2018/2019 Thomas R. Brown Athletics Grant Recipients
Alabama
Collins-Rhodes Elementary School, Eight Mile
Randolph County High School, Wedowee
Arizona
Homer Davis Elementary School, Tucson
Roadrunner School, Phoenix
California
Bobbie Smith Elementary School, Long Beach
Braddock Drive Elementary School, Culver City
Brea County Hills Elementary School, Brea
Brentwood Academy, East Palo Alto
Bret Harte Elementary School, Long Beach
Browns Valley School, Napa
Carolyn Clark Elementary School, San Jose
Cesar Chavez Middle School, Hayward
Dairyland Elementary School, Chowchilla
Del Rey Elementary School, Del Rey
Delaine Eastin Elementary School, Union City
Fairview Elementary School, Fairfield
Foothill Middle School, Walnut Creek
French Camp Elementary School, French Camp
Grant Elementary School, San Jose
Hawthorne High School, Hawthorne
Hendrick Ranch Elementary School, Moreno Valley
Hughson Elementary School, Hughson
Jackson Heights Elementary School, Red Bluff
Junipero Serra Elementary School, San Francisco
Justin Early Learners Academy, Simi Valley
Laguna Creek High School, Elk Grove
Lakeside Middle School, Lakeside
Linda Verde Elementary School, Lancaster
Lindbergh Middle School, Long Beach
Mann Middle School, San Diego
March Middle School, Moreno Valley
McKinley Elementary School, Santa Barbara
Mno Grant Elementary School, Antioch
Nevada Union High School, Grass Valley
Raisin City Elementary School, Raisin City
RF Hazard Elementary School, Santa Ana
Rocklin Elementary School, Rocklin
San Gabriel High School, San Gabriel
Special Education Center at Mark Twain School, Garden Grove
Susan B. Anthony Elementary School, Sacramento
Three Rings Ranch Elementary School, Beaumont
Trinity High School, Weaverville
Winter Gardens Elementary School, Lakeside
Yucca Loma Elementary School, Apple Valley
Colorado
Asbury Elementary School, Denver
Heritage Elementary School, Pueblo
Hygiene Elementary School, Longmont
Malley Drive Elementary School, Northglenn
North Middle School, Aurora
Wiggins Elementary School, Wiggins
Connecticut
Aces Village School, North Haven
Classical Studies Magnet Academy, Bridgeport
Cross Street Intermediate School, Naugatuck
John G. Gilmartin Elementary School, Waterbury
Shelter Rock Elementary School, Danbury
Florida
Moore Haven Middle-High School, Moore Haven
Idaho
Clark County School District #161, Dubois
Filer High School, Filer
Summit Elementary School, Jerome
Illinois
Cedar Ridge Elementary School, Bloomington
Central Community High School, Breese
Chillicothe Elementary Center, Chillicothe
McHenry Middle School, McHenry
Indiana
East Crawford Elementary School, Milltown
East Noble High School, Kendallville
Franklin Township Middle School West, Indianapolis
Northridge High School, Middlebury
Summit Elementary School, Bloomington
Iowa
Capitol View Elementary School, Des Moines
Grinnell High School, Grinnell
West Lyon Community School, Inwood
Kansas
Hays Middle School, Hays
West Franklin Elementary School at Williamsburg, Williamsburg
Kentucky
Kathyrn Winn Primary School, Carrollton
Marie Roberts-Caney Elementary School, Lost Creek
Maine
Sedomocha Elementary School, Dover-Foxcroft
Maryland
Murray Hill Middle School, Laurel
Snow Hill Elementary School, Snow hill
Minnesota
Cass Lake-Bena Elementary School, Cass Lake
STAR: Assistive Technology Department, Chaska
Missouri
Coverdell Elementary School, St. Charles
Duchesne Elementary School, Florissant
Indian Creek Elementary School, Kansas City
Nebraska
Benson High School, Omaha
Hampton Public School, Hampton
Sandhills Public Schools, Dunning
Nevada
Pleasant Valley Elementary School, Reno
New Hampshire
Beech Street Elementary School, Manchester
New Jersey
Atlantic City High School, Atlantic City
Bartle Elementary School, Highland Park
Carl T. Mitnick School, Cape May
Hurden Looker Elementary School, Hillside
McKenzie School, East Rutherford
Panther Academy, Paterson
Washington Elementary School, Hawthorne
New Mexico
Highland Elementary School, Las Cruces
Tucumcari Elementary School, Tucumcari
Ohio
Black River Elementary School, Sullivan
Belpre High School, Belpre
Claymont Elementary School, Uhrichsville
Green Elementary School, Logan
Heritage Middle School, Painesville
Newcomerstown EVSD-West Elementary School, Newcomerstown
Overlook Elementary School, Wadsworth
Oklahoma
Pond Creek-Hunter Elementary School, Pond Creek
Oregon
Joseph Charter School, Joseph
Kennedy Middle School, Eugene
Peninsula Elementary School, Portland
Roberts High School, Salem
Shasta Elementary School, Klamath Falls
Union School District, Union
Pennsylvania
Conrad Weiser East Elementary School, Wernersville
Leechburg Area High School, Leechburg
North Schuylkill Jr./Sr. High School, Ashland
Octorara Area Elementary, Atglen
Roosevelt Elementary School, Allentown
Tamaqua Area High School, Tamaqua
Tennessee
Northview Primary School, Kodak
Texas
Lamar Elementary School, Amarillo
Utah
Springdale Elementary School, Springdale
Virginia
Elkhardt-Thompson Middle School, Richmond
Montross Middle School, Montross
Nansemond River High School, Suffolk
Washington
Arcadia Elementary School, Deer Park
Brookdale Elementary School, Tacoma
Chattaroy Elementary School, Chattaroy
Chief Sealth International High School, Seattle
Covington Middle School, Vancouver
DeLong Elementary School, Tacoma
Evergreen High School, Seattle
Garfield Elementary School, Yakima
George T. Daniel Elementary School, Kent
Highland Middle School, Bellevue
Julia Butler Hansen Elementary School, Olympia
Lincoln High School, Tacoma
Shorecrest High School, Shoreline
Westview Elementary School, Spokane
Wyoming
Alta Vista Elementary School, Cheyenne
Rock Springs High School, Rock Springs