For Immediate Release
Robin Freese
719.532.8440
rfreese@calcas.com
2020 Music and Arts Grants Available from California Casualty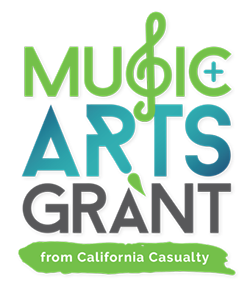 San Mateo, CA, April 20, 2020 – California Casualty continues to inspire public school creativity with its 2020 Music and Arts Grant program. K-12 administrators, instructors and educational support professionals with a financial need for their performance, artistic, or classroom program can apply at www.calcasmusicartsgrant.com.
The benefits of artistic opportunities in schools are numerous. Involvement in music and art instills confidence, improves students' academic achievement and enhances social skills. Unfortunately, arts education is often the first area jolted by school budget cuts.
California Casualty understands the value of creative projects in schools and the challenge of securing funding for such programs. The grant aids choir, band, dance, film, theater, computer arts and graphics or any K-12 curriculum that employs art for learning. California Casualty's 2020 Music and Arts Program entry deadline is June 30, 2020, with grants awarded in September.
"The importance of arts education can't be overstated," said California Casualty AVP Brian Goodman. "We are proud that we can help teachers provide more creative opportunities for students and schools."
California Casualty wants to make sure as many students as possible get a chance to learn music, act in a school play, or hone their artistic talents, by providing $250 for worthy projects.
Last year, public schools in 31 states shared $35,000, which went to:
Purchasing adaptive instruments for students with special needs
Providing recorders for music class students
Buying a camera and photo equipment to allow more students to participate in a photography class
Supplying costumes and other necessities for dance theater
What is your need? Educators at public K-12 schools can apply for a $250 Music and Arts Grant at www.calcasmusicartsgrant.com. Applicants must be a current member of the state NEA affiliate or one of the other participating educator associations including ACSA, CASE, COSA, KASA, NASA or UASSP.
Founded in 1914, California Casualty has been providing educators trusted auto and home insurance since 1951. As the endorsed benefit partner for educator and administrator groups across the country, California Casualty offers members exceptional rates, waived deductibles for vandalism or collisions to your vehicle parked at school, holiday or summer skip payment options and free Identity Defense protection. Learn how to save by getting a quote at www.calcas.com, or call 1.800.800.9410.