For Immediate Release
Mark Goldberg
719.532.8436
mgoldberg@calcas.com
A Lucky First Responder Will Win $5,000 Worth of STIHL Tools from California Casualty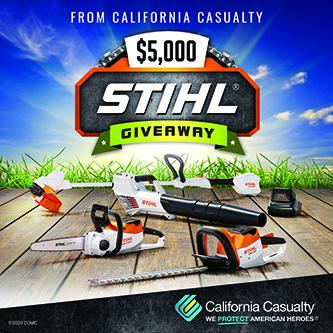 San Mateo, CA, January 1, 2020 – California Casualty wants to thank first responders once again with a 2020 Work Hard/Play Hard contest. This year, one lucky firefighter, EMT or law enforcement officer will receive their choice of tools in the $5,000 STIHL* Tools Giveaway. Public safety professionals and volunteers can learn more and enter at www.contest4heroes.com.
First responders know first-hand that using the right tools reduces their risk of injury and helps get the job done faster – two important aspects in their line of work.
From chainsaws and trimmers, to drills and safety equipment, STIHL has it all. That's why California Casualty, the trusted auto and home insurance provider of America's firefighters, EMTs and law enforcement officers, is offering a prize package of dependable tools and equipment.
"We're 105 years strong," said California Casualty Sr. Vice President Mike McCormick. "Our strength comes from the dedicated professionals who protect our communities. We owe them this thank you for all that they do."
Previous Work Hard/Play Hard sweepstakes from California Casualty have awarded public safety personnel Liberty Safes, DeWalt Tools, motorcycles, and cash. Past winners include an Oregon Police officer, Colorado Sheriff's captain, Firefighters from California, Nebraska, Ohio and Pennsylvania, and a California Highway Patrolman.
California Casualty will provide one lucky winner the STIHL tools of their choice in the Work Hard/Play Hard $5,000 STIHL Tools drawing, open to police officers, EMTs and firefighters – American heroes who work hard and risk their lives. Entries are being taken now through October 31, 2020 at www.contest4heroes.com. The winner will be announced in November.
Headquartered in San Mateo, California with Service Centers in Arizona, Colorado and Kansas, California Casualty provides auto and home insurance to educators, firefighters, law enforcement and nurses across the country. Founded in 1914, California Casualty has been led by four generations of the Brown family. Learn more about California Casualty at www.calcas.com or call 1.800.800.9410.
*Stihl does not endorse or sponsor this promotion