For Immediate Release
Mark Goldberg, 719.532.8436
mgoldberg@calcas.com
California Casualty Celebrates 100 Years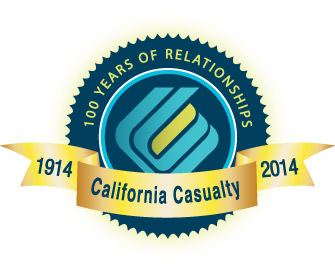 San Mateo, California, January 15, 2014 … "An event like this doesn't happen without a tremendous amount of work!" remarked California Casualty CEO Beau Brown as the company observed a "once in a lifetime" occasion, crossing the threshold into its second century of business, January 1, 2014.
A grand gala was held January 10, 2014 in Redwood Shores, California, for over 200 past and present employees who have more than 25 years with the company. CEO Beau Brown said, "The story of California Casualty is not just about the founding family, but also with the employees, who for 100 years have been focused on the core values of doing what is right for the policyholder, living up to promises and working with integrity and high ethics."
Chairman Emeritus Thomas R. Brown said, "The descendants of the founder, Carl G. Brown, all owe you our sincere thanks and appreciation for your long-term contributions, and we will forever be indebted to you."
Both the State of California and the City of San Mateo recognized the 100 year milestone with official proclamations that were presented at the gala.
Current employees were treated to local parties with a carnival theme, where they played games of skill and chance and enjoyed sumptuous food representing the locations of California Casualty's four service centers:
San Mateo, California
Colorado Springs, Colorado
Leawood, Kansas
Glendale, Arizona
California Casualty was founded January 1, 1914 by Carl G. Brown, in San Francisco, California. It continues to be a privately held, family owned business under four generations of Brown family leadership – Carl G. Brown, Carl G. Brown, Jr., Thomas R. Brown, and current CEO Beau Brown. It now sells auto and home insurance in 43 states.
The company created a special website to commemorate the 100th anniversary, complete with video, a timeline and Brown family bios at www.CalCas100.com.
Headquartered in San Mateo, CA, with Service Centers in Arizona, Colorado and Kansas, California Casualty provides auto and home insurance to educators, firefighters, law enforcement and nurses across the country – American heroes who enhance their communities. Celebrating 100 years of service, California Casualty has been family led by four generations of the Brown family. To learn more about California Casualty, or to request an auto insurance quote, please visit
www.CalCas.com
or call 1.800.800.9410.