For Immediate Release
Contact: Mark Goldberg 719.532.8436
mgoldberg@calcas.com
California Casualty Supports California Gold Ribbon Schools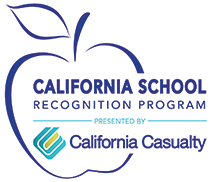 San Mateo, CA, June 7, 2017 – California Casualty joins the California Department of Education in congratulating the 275 middle and high schools that were named 2017 Gold Ribbon Schools. The recipients were cited for embracing and implementing rigorous academic standards while creating a positive school environment that promotes excellence and creativity in teaching.
The schools were recently recognized at ceremonies held across the golden State.
As the Presenting Sponsor, California Casualty was proud to attend and help celebrate their accomplishments.
California Casualty Assistant Vice President Lisa Almeida was honored to welcome attendees and introduce State Superintendent of Public Instruction Tom Torlakson at each of the ceremonies honoring the schools.
Citing its 65 year partnership with the CTA, Superintendent Torlakson noted the important role California Casualty has taken in supporting schools that have advanced excellence in education.
California Casualty CEO Beau Brown remarked how impressed he was by the dedication of teachers, administrators and classified employees who help students reach their full potential. "We are all inspired by the extraordinary commitment it takes to be a Gold Ribbon School," he said. "Just as you commit so much to make a difference for future generations, we are proud to support you with the highest level of care, service, compassion and understanding."
Superintendent Torlakson said that the Gold Ribbon Schools, "shine as bright beacons for others, putting forth an exemplary effort to ensure that every student is ready for 21st century colleges and careers."
As the Presenting Sponsor, California Casualty also made possible these other 2017 California School Recognition Programs:
California Teachers of the Year
Classified School Employees of the Year
California Green Ribbon School Awards
About California Casualty
Headquartered in San Mateo, California, California Casualty provides auto and home insurance to educators, firefighters, law enforcement and nurses across the country – American heroes who enhance their communities. Founded in 1914, California Casualty has been led by four generations of the Brown family. To learn more about California Casualty, or to request an auto insurance quote, please visit www.calcas.com or call 1.800.800.9410.