For Immediate Release
Brian Goodman 503.201.2700
bgoodman@calcas.com
California Casualty Supports Washington's 2017 Green Ribbon Schools Honorees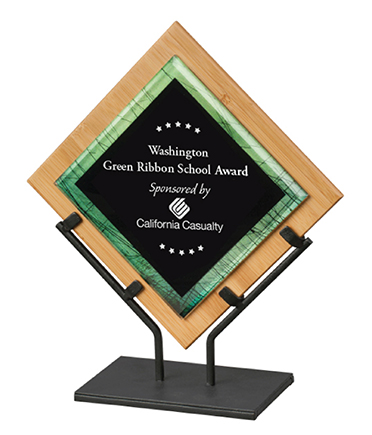 San Mateo, CA, May 5, 2017 – California Casualty congratulates the two Washington State schools that have been named 2017 U.S. Department of Education Green Ribbon Schools awardees. Green Gables Elementary (Federal Way) and Lakeridge Elementary (Mercer Island) are among 63 districts and schools across the nation this year who achieved the honor.
To achieve the Green Ribbon Schools status, the districts and schools had to meet three key pillars:
Reducing environmental impacts and costs
Improving the health and wellness of students and staff
Providing effective environmental and sustainability education, incorporating Science, Technology, Engineering and Math (STEM); civic skills and green career pathways
Green Gables Elementary succeeded in reducing energy usage over 15 percent between 2011 and 2016.The school was the first in its district to initiate a comprehensive recycling and composting program, and was the first in the district to build an organic garden.
Lakeridge Elementary School's Green Team continues to lead the school in various sustainability activities including waste reduction, recycling and energy and conservation practices. They ran a successful campaign that resulted in a 15 percent decrease in food waste.
"Every Green Ribbon Schools honoree should feel incredibly proud of what they have accomplished," said Superintendent of Public Instruction Chris Reykdal. "The efforts of these students and educators will have an impact for decades to come. We should all be teaching the next generation the importance of sustainability and conservation."
California Casualty CEO Beau Brown remarked what a privilege it is to help promote the actions of schools and school districts that benefit the environment, youth and the community at large. "We congratulate the Green Ribbon Schools awardees for meeting the high standards set by the U.S. Department of Education," he said.
As the Green Ribbon Schools Local Sponsor, California Casualty is providing $2,500 to each Washington awardee to help with expenses traveling to the national honors ceremony in July, held in Washington, D.C. The schools also have the option of applying the funds toward further improving their green programs.
"Achieving the Green Ribbon Schools award is a huge accomplishment and we are proud to help sponsor this program," said California Casualty Washington Partner Relations Regional Manager Brian Goodman. "California Casualty has partnered with NEA Member Benefits in Washington since 2001 to serve and support dedicated teachers and educational support personnel who engage and educate students."
The Washington Office of Public Instruction is also proud to announce these four schools were honored as state Green Leaders for significant achievements in at least one of the three Green Ribbon pillars:
Cedarsong Outdoor Preschool (Vashon Island)
Lakeland Hills Elementary School (Auburn)
Montessori Children's House (Redmond)
Nurture in Nature Preschool (Tacoma)
This is the sixth year the awards have been given.
About California Casualty
Headquartered in San Mateo, California, with Service Centers in Arizona, Colorado and Kansas, California Casualty provides auto and home insurance to educators, firefighters, law enforcement and nurses. Founded in 1914, California Casualty has been led by four generations of the Brown family. To learn more about California Casualty, or to request an auto insurance quote, please visit www.calcas.com or call 1.800.800.9410.
About OSPI
The Office of Superintendent of Public Instruction (OSPI) is the primary agency charged with overseeing K–12 education in Washington State. Led by State School Superintendent Chris Reykdal, OSPI works with the state's 295 school districts and nine educational service districts to administer basic education programs and improve student achievement on behalf of more than one million public school students.