For Immediate Release
Mark Goldberg, 719.532.8436
mgoldberg@calcas.com
California Casualty Wants to Know: How Many Tools Can You Use?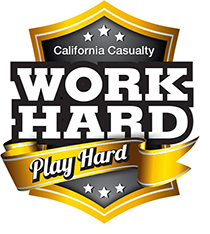 San Mateo, CA, February 15, 2016 … A lucky first responder will be the envy of their neighbors, workmates and friends with California Casualty's newest Work Hard/Play Hard "All In" DeWALT® Sweepstakes. The grand prize is an ultimate tool kit filled with $10,000 worth of DeWALT® guaranteed tough tools. We're talking a generator, compressor and all the power saws, wrenches, compressors, drills, and accessories anyone could ever need or use.
The "Work Hard/Play Hard" drawing is open to peace officers, EMTs and firefighters; American heroes who work hard and risk their lives daily. Entries are being taken at http://go.calcas.com/DeWalt starting February 15, 2016.
"First responders give so much to make our communities better, and we are dedicated to making sure they are appreciated for all they do," said California Casualty Sr. Vice President Mike McCormick.
California Casualty has awarded Harley-Davidson motorcycles, boats, personal water craft, and thousands of dollars in cash to previous Work Hard/Play Hard winners.
Imagine never having to borrow a tool again. Now turn that dream into reality by entering the California Casualty "All In" DeWALT® Sweepstakes. The entry form and rules can be found at http://go.calcas.com/DeWalt. The deadline to enter is September 21, 2016, with a winner announced in October.
Headquartered in San Mateo, California with Service Centers in Arizona, Colorado and Kansas, California Casualty provides auto and home insurance to educators, firefighters, law enforcement and nurses across the country. Celebrating 100 years of service, California Casualty has been led by four generations of the Brown family. To learn more about California Casualty, or to request an auto insurance quote, please visit www.calcas.com or call 1.800.800.9410.
*DeWALT® is a registered trademark of Stanley Black & Decker. All rights reserved. DeWALT® and its parent companies are not participating partners in or sponsors of this contest.