For Immediate Release
Mark Goldberg 719.532.8436
mgoldberg@calcas.com
Pennsylvania Firefighter Receives the Garage of His Dreams Thanks to California Casualty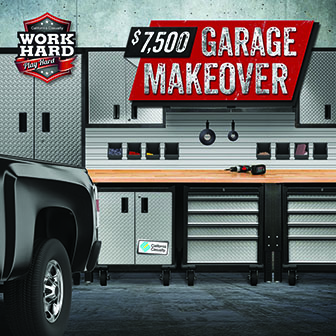 Bethlehem, PA, December 6, 2019 – Kyle Albrecht's holidays just got much better, thanks to the $7,500 Garage Makeover Sweepstakes from California Casualty. Kyle was presented with the grand prize Thursday during a station meeting at the Nancy Run Fire Station. Kyle was one of 16,000 first responders who entered the contest.
Kyle anticipates using the funds for tool storage and other accessories for his garage. "I am super surprised and beyond excited," he said. "The timing is perfect; my wife and I bought our forever home last year and we just purchased a storage shed so we could clean out the garage to make it more useful."
Kyle, whose father was a firefighter, knew he wanted to be in the fire service since his teens. He is a volunteer firefighter/paramedic for the Nancy Run Fire Company and is a full-time 911 dispatcher.
"I really enjoy helping others and love what I do. Our fire department serves Bethlehem Township and surrounding areas with fire suppression, emergency medical care, and fire prevention and education services."
Kyle is on a personal mission to inform his community about the importance of fire and emergency safety. "I ask anyone who reads this to learn CPR and check their smoke detectors," he said.
Kyle admits that he works hard and uses family time to relax and recharge after long days at work. "My family and kids are the most important part of my life, I do it all for them," he said.
California Casualty initiated the $7,500 Garage Makeover contest to say thanks to first responders, who face dangers every day protecting people and property in their communities.
"We are thankful for the tough job first responders do every day for all of us," said California Casualty Sr. Vice President Mike McCormick. "We wanted to show our appreciation and provide a useful way to say thanks."
"I don't do the work I do for recognition, but it is great when a company like California Casualty acknowledges the hard work that we do. It makes me extremely grateful," Kyle added.
California Casualty has been insuring first responders since 1969, offering auto and home insurance with outstanding benefits.
Headquartered in San Mateo, California with Service Centers in Arizona, Colorado and Kansas, California Casualty provides auto and home insurance to firefighters, law enforcement officers, educators and nurses across the country. Founded in 1914, California Casualty has been led by four generations of the Brown family. To learn more about California Casualty, or to request an auto insurance quote, please visit www.calcas.com or call 1.800.800.9410.