For Immediate Release
Mark Goldberg
719.532.8436
mgoldberg@calcas.com
RNs Surprised with $1,000 Nurse's Nights Out From California Casualty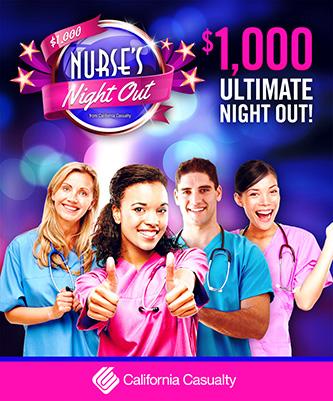 San Mateo, CA, November 20, 2019 – California Casualty congratulates RNs Dina Danley and Marie Cinalli, who are each recipients of a $1,000 Nurse's Night Out prize.
Dina, an Oregon Nurses Association member, works in the MRI department at Rogue Regional Medical Center in Medford. Dina has been in the profession for 23 years. She will use the funds to replenish the savings she used traveling to help her ailing mother this past year, and will apply some of it toward a trip to Japan. "This is such a nice surprise," she added.
For Marie, the award comes at a perfect time for holiday shopping. She's a member of the Ohio Nurses Association, and past president of the ONA Chapter in Akron. She works at the Cleveland Clinic Akron General.
California Casualty, which provides auto and home/renters insurance to nurses, is dedicated to honoring the profession. The Nurses Night Out contest was created to thank nurses for the long hours they put in offering comfort and healing to patients and families. Winners can use the $1,000 prize any way they wish: hosting a party, taking a relaxing day at the spa, or going on a shopping spree. They are only limited by their imagination.
"California Casualty protects American heroes, and it's gratifying to show the men and women who take care of America how much we appreciate them,'" said California Casualty Sr. Vice President, Mike McCormick.
Oregon and Ohio nurses can learn about the contest and enter for the next $1,000 Nurses' Night Out giveaway at www.nursesnight.com. Winners will be announced in April 2020.
Headquartered in San Mateo, California, with Service Centers in Arizona, Colorado and Kansas, California Casualty provides auto and home insurance to nurses, educators, law enforcement and firefighters. Founded in 1914, California Casualty has been led by four generations of the Brown family. To learn more about California Casualty, or to request an auto insurance quote, please visit www.calcas.com or call 1.800.800.9410.