For Immediate Release
Mark Goldberg, 719.532.8436
mgoldberg@calcas.com
Calexico Chemistry Students will Benefit from California Casualty's $2,500 Academic Award
San Mateo, CA, September 13, 2016 … Eduardo Niebla's passion for teaching high school science is getting a boost with a $2,500 Academic Award from California Casualty. He was in shock when he was announced as the latest winner during a recent staff meeting.
He will use the funds to purchase more equipment for his chemistry and forensic science classes at Calexico High School in Calexico, California. "Budgets are always tight," he said, "This will help ensure that our students have the supplies and materials they need to succeed."
Mr. Niebla developed a love of learning from his parents, who were both chemists. After also working as a chemist, he realized he wanted to teach others instead. He has taught for 18 years, the past 12 at Calexico High.
"I am very glad to have the support of a company like California Casualty who believes in investing in education and the future. I see the results when students get into universities and colleges, and when they come back to show me their diplomas and tell me that I was the reason they decided to go into the science field," he said.
"This award is a reflection of the proud 65 year relationship we have with the California Teachers Association," said Sr. VP Mike McCormick. We are committed to serving educators and helping them make a difference for children."
The Academic Award was created to ease the economic impact felt by educators who often spend their own money to outfit their classrooms with essential supplies and materials. This is the 11th Academic Award from California Casualty since the program began in 2012.
Entries for the next California Casualty $2,500 Academic Award are now being taken at www.cCalCasAcademicAward.com. The entry deadline is December 4, 2016, with a winner announced after the New Year.
Headquartered in San Mateo, California, with Service Centers in Arizona, Colorado and Kansas, California Casualty provides auto and home insurance to educators, firefighters, law enforcement and nurses. Celebrating more than 100 years of service, California Casualty has been led by four generations of the Brown family. To learn more about California Casualty, or to request an auto insurance quote, please visit www.calcas.com or call 1.800.800.9410.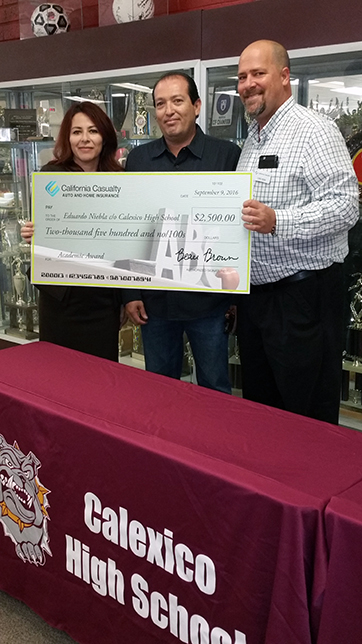 (left to right) Principal Gabrielle Williams, winner Eduardo Niebla and California Casualty Field Marketing Manager Chris Renn