For Immediate Release
Mike Ray, CFO, 650.572.4410
mray@calcas.com
California Casualty Group Companies Assigned Financial Stability Ratings® of A, Exceptional, by Demotech, Inc.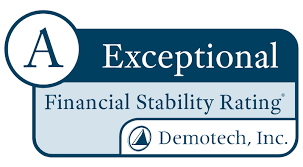 San Mateo, CA, August 30, 2018 – Acknowledging the California Casualty Group's strong capital position and ability to pay all claims, financial analysis company, Demotech, Inc. (Demotech), has assigned the companies in the group Financial Stability Ratings® (FSRs) of A, Exceptional.
Demotech, located in Columbus, Ohio, specializes in evaluating the financial stability of property and casualty insurers, providing accurate, reliable and proven FSRs.
The strong financial footing of the companies in the California Casualty Group, confirmed by Demotech, illustrates the great strides the companies have achieved in financial and underwriting efforts to both grow customers and maintain long-term profitability.
Despite unexpected catastrophe losses in 2017, and losses for 2018 that are still being assessed, California Casualty remains well capitalized and able to meet all financial responsibilities.
California Casualty's Chief Financial Officer, Mike Ray, said, "For more than a century, California Casualty has met all its obligations to our partners and their members, and we will continue to do so. Demotech's assessment reaffirms that our strategies and conservative approach are not only working, but that we are well positioned as a policyholder-owned company."
As an independent financial analysis firm, Demotech has a proven track record of predicting financial stability in the insurance industry. Demotech gauges a company's balance sheet strength and financial integrity to determine the long-term financial stability required to honor meritorious claims. Demotech's rating process provides an objective baseline for assessing solvency based upon changes in financial stability, as manifested in an insurer's balance sheet. FSRs are based upon a series of quantitative ratios and considerations that comprise their Financial Stability Model.
"The A, Exceptional, ratings from Demotech reaffirm to our affinity partners that California Casualty continues to be a strong member benefit that they can count on. We remain laser focused on the people and groups that we are proud to serve as a trusted partner and resource," said California Casualty Sr. Vice President for Partner Programs, Doug Goldberg.
Financial Stability Ratings® of A or better from Demotech are accepted by several government entities, including the Federal National Mortgage Association (Fannie Mae), the Federal Home Loan Mortgage Corporation (Freddie Mac), and the U.S. Department of Housing and Urban Development (HUD).
About California Casualty
Headquartered in San Mateo, California, with Service Centers in Arizona, Colorado and Kansas, California Casualty provides auto and home insurance to educators, law enforcement, firefighters and nurses. Founded in 1914, California Casualty has been led by four generations of the Brown family. To learn more about California Casualty, or to request an auto insurance quote, please visit www.calcas.com or call 1.800.800.9410.
About Demotech, Inc.
Demotech, Inc. is a financial analysis firm specializing in evaluating the financial stability of regional and specialty insurers. Since 1985, Demotech has served the insurance industry by assigning accurate, reliable and proven Financial Stability Ratings® (FSRs) for Property and Casualty insurers and Title underwriters. SRs are a leading indicator of financial stability, providing an objective baseline of the future solvency of an insurer. Demotech's philosophy is to review and evaluate insurers based on their area of focus and execution of their business model rather than solely on financial size. Visit www.demotech.com for more information.